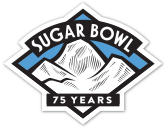 We arrived at Sugar Bowl after about a 35min drive from Tahoe City. It's an easy drive that could be difficult after heavy snowfall. According to locals it is always very quiet mid week and busy during weekends but they also mentioned that a 3min line is almost unacceptable. So I really don't know what they mean with busy…
Also according to a local it is always windy during bad weather and most of the resort could be closed. What I really like about this resort is the lift system. With 4 high-speed chairs you can ski the whole resort without spending a minute on one of the old and slow chairs. The Mt. Lincoln Express is even equipped with a safety bar including leg rest. European Standard in the USA.
Accomodation
North Lake Tahoe: Lots of motels and other places to stay. Busy on weekends and peak season.
Discounted Tickets
Discounted tickets at Safeway or McDonald's especially for weekends. You get $10+ off (was the case in 2005).
Resort Homepage

Prices
$$$/$$$$
Weather Affection
Heavy
Trees
Yes
Best Time
Weekdays
Worst Time
Weekends