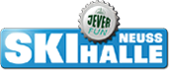 For heaven's sake, this is short! 300m (900 feet) is so short after skiing the 640m of Bottrop. However, the snow quality and the light are much better. 2nd best snow of the 4 snowdomes we skied that day.
August '07: Part of the"4 Snowdomes in 3 Countries plus Water-ski in One Day".
Very nice to have a quad chair indoors. A bit slow, but who cares? Almost the same vertical as Bottrop but only half as long—at least a bit steeper. The good light, Austrian atmosphere, and modern look gives a better impression overall.
Tip
Always close the safety bar on the chair; otherwise, they will shut down the chair halfway up and remind you over the public address system how important it is to do that. These guys should ski in the U.S.; they have not idea how it is on a high-speed, detachable chair without a safety bar (Alta).
Resort Homepage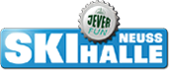 Prices
$
Best Time
Weekdays