These partners and friends are supporting me in living my dream each and every winter for many years.
Mammut

One of the leaders in avalanche safety equipment. Transceivers, backpacks, Avalanche Airbag backpacks, shovels, probes and much more. They have all you need to be ready for your next backcountry trip.
Mammut has been working intensively on the topic of mountain safety for years and is doing everything in its power to keep the risks of mountain sports as low as possible.
Calling all freeriders: the innovative, removable avalanche airbag system from Snowpulse (R.A.S. Removable Airbag System) is now integrated in the successful Nirvana Ride Mammut snow backpack. The R.A.S. was developed by Snowpulse for efficient handling and reliable operation. The system can even removed by the user and integrated in another R.A.S.-compatible backpack. The avalanche airbag significantly reduces the risk of being buried in an avalanche, considerably improving chances of survival.
Powdermania is an official partner of Mammut since May 2012.
RESQSKI – Ski finder

Product of the Season 2012/2013 – Powdermania Gold Award
RESQSKI – Revolutionary electronic ski finder
Searching a ski in deep powder while others ski – never again – find you ski in minutes

CASA Tours is the original ski and snowboard tour operator in Chile and Argentina.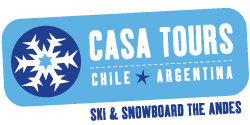 Since 1998, we have been introducing skiers and snowboarders to the uncrowded ski resorts in Chile and Argentina, and the amazing off-piste terrain and wide-open backcountry of the Andes.
CASA stands for Chile Argentina Snow Adventures and is a grassroots organization whose mission is to increase exposure to South American landscapes, mountains, and cultures. Our adventures are about traveling safely in the mountains; introducing our guests to new places, people, cuisines, language and customs; achieving personal ski and snowboard goals; and developing lifelong friendships and memories
KJUS – Uncompromising performance

When it comes to ski wear there are no compromises to be taken. The feeling of skiing with the best available ski gear makes it even better. Since 2008 I have had the pleasure of being on the product testing team of KJUS. Year after year these guys are making sure that the best gets even better. 

Hakuba Powder Lodge

My #1 skiers lodge in Hakuba, Japan. The place where returning guest meet year after year and where newcomers are part of the family within the hour.
Hakuba Mountainlife


No matter what you are looking for. Daytrip, Multiday trips into the backcountry, private or in a small group. Or maybe it is time to get a fresh up or your first avalanche training. Plan this while you are in Hakuba with Hakuba Alpine Guides. Great experience and hospitably guaranteed
The Avalanche School Hakuba
Time to get a fresh up or get your first avalanche training? Plan this while you are in Hakuba. Great experience and hospitably guaranteed
Hotronic
Don't like cold feet while skiing, hiking or any other outdoor activity? Check out the products of Hotronic. Bootwarmers and dryers to keep your feet comfortable. For over 10 years I have skied with boot warmers when the temperatures get crispy and there is nothing better than having dry and warm feet not matter how long your outdoor day will be.
Powderguide.com
The greatest source of information about current snow conditions at various resort in Switzerland, Austria, France, Italy among many other places. Weather and snowforecast as well as information about avalanches conditions. Weather information and backcountry conditions done by freeriders for freeriders.
Downskis.com – time for something different
DOWN is a montage of freeride skiers from all over Europe and the US that understand the current ski company model can be changed for the better. Over the past decade we have seen huge leaps in many areas of the industry and DOWN wants to help continue that evolution through not only our ski designs but our focus on delivering exceptional value to our shops and skiers through high quality production techniques, streamlining supply chains, innovative testing, and our end-to-end customer service. We strive to maintain a small and focused core family of products and customers and are always thinking of ways to do things better for you.

Hakuba Cortina Kokusai and the Green Plaza Hotel
One of several ski resorts in the Hakuba Valley. Make sure to make this resort one of your destinations for your next Japan vacation. A day of skiing at Cortina will be an unforgettable experience. You will never forget the first time you see the hotel, then you will be blown away by the great powder snow they get, followed by the great lunch (make your own pizza – the best ever) and don't forget to spend some time in the Onsen right after a great skiing day. This package is priceless.
Hakuba Cortina on Facebook – incl. condidtion reports provided by powdermania reporters